The time to scout is now! Legend Seeds Sales Agronomists have found the following pests just this week:
Soybeans:
Spider Mites:
After scouting in several locations in Minnehaha County, SD Spider Mites were found in several locations. Due to the warm and dry weather conditions Spider Mites are appearing sooner than expected. See the photos below for examples of leaf discoloring (left) and Spider Mites (right).
An important note to remember with Spider Mites is that the common insecticide known as Lambda-cyhalothrin (i.e. Warrior), is not effective against spider mite infestations. In order to combat/control Spider Mites, Chlorpyrifos or Bifenthrin are recommended. Be aware, Chlorpyrifos is in short supply in several areas.

Signs to Scout For:
Light colored speckling on the top side of the leaves.

Small specs (Spider Mites) on the underside of the leaves.

Small webbing that may include remnants of debris caught in their web.
Soybean Aphids:
Soybean Aphids have been located in eastern South Dakota. While population is minimal at this time, it is surprisingly early in the season to be finding Soybean Aphids this prevalent. Multiple insecticide application products are effective in combating Soybean Aphids pressure. This allows for multiple treatment options given the insecticide shortage.


Photo courtesy of UMN Extension
Bean Leaf Beetle: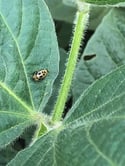 Depending on the plant stage and amount of injury on the plant, Bean Leaf Beetle can largely impact yield.
Corn:
Flea Beetle:
Flea Beetles are traditionally a southern pest that cannot survive over winter in our climate conditions. However, due to the recent weather patterns we have been experiencing it has created conducive living conditions for these pests.
Flea Beetles feed on the silks of the ear. Thus, if the plant has not finished pollinating, the cob will produce a blank consequently impacting overall yield. Additionally, Flea Beetles are a carrier of the bacteria responsible for causing Stewart's Wilt in corn.
Photos courtesy of Purdue Extension
Western Corn Rootworm Beetle: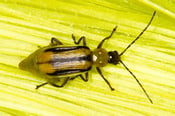 Photo courtesy of UNL Extension
In some fields where the grower has chosen to plant corn back to back, we are finding significant Western Corn Rootworm Beetle pressure. This pest is very common in our area.
Resources:
Questions?
As always, Legend Seeds is here to help with your agronomy/seed needs. If you have any questions on scouting, disease or insect pressure, or crop management recommendations, please contact your Legend Seeds representative.