The time to scout is now! Legend Seeds Sales Agronomists have found ECB presence just this week!

European Corn Borer
Over the last 100 years, European Corn Borer (ECB) has proven to be a pest for many conventional corn growers. ECB is known to cause significant damage to the crop causing overall yield loss as it affects both the stalks and ears of the plant. With the introduction of insect-reduction and transgenic corn hybrids, the prevalence of ECB has declined. However, it is still important in non-insect traited corn to be diligent in scouting for pests such as ECB.

There are four stages of growth within the life cycle of ECB. During the month of July any of the four stages may be present. As ECB feeds and bores tunnels in the crop, it can lead to inefficiencies in photosynthesis as well as water dispersal.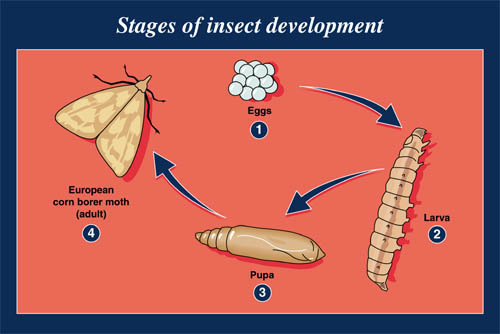 Photo Courtesy of: University of Illinois Extension
Live From the Field!
In these photos from Kingsbury County, SD, you will see the signs we found this week in a conventional corn field. The first two photos on the left show examples of what larva looks like and the third photo showcases shot holes.

Signs to Scout For:
For growers that use non-insect traited corn, it is important to know the signs to search for in the field. If you find one sign continue to scout for other signs of ECB.
Pull back the leaf collars and look down in to see larva presence.

Determine if there is presence of shot holes in the leaves.

Look for egg masses on leaves.
If you find ECB infestations in your field, consider application action.
Additional Resources:
Questions?
As always, Legend Seeds is here to help with your agronomy/seed needs. If you have any questions on scouting, disease or insect pressure, or crop management recommendations, please contact your Legend Seeds representative.