Legend Seeds Account Managers have recently found Soybean Stem Borer in southern South Dakota. Soybean Stem Borer, also known as Dectes Stem Borer, feeds on the soybean plant at both the larval and adult stages. Increased stem damage during the larval stage can lead to reduced yields and increased lodging.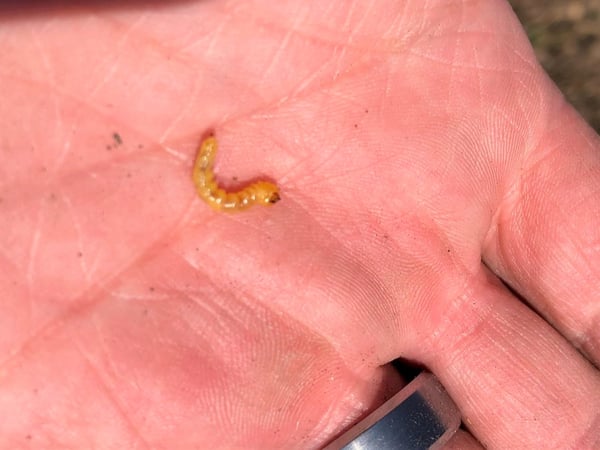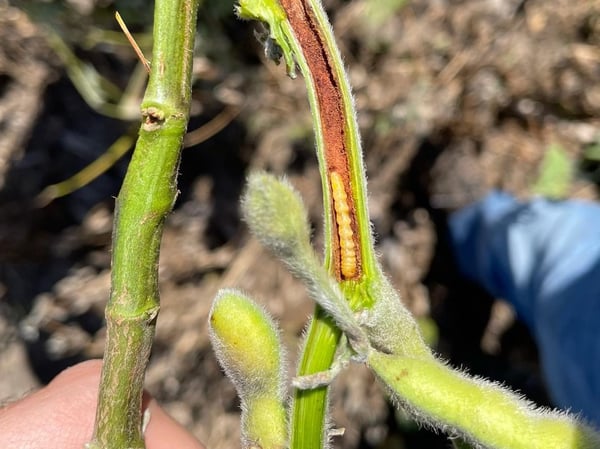 As pictured above, this pest is in the juvenile stage of the Horned Beetle. It is most common as a pest in sunflowers. One of University of Nebraska Lincoln's control suggestions is to plant sunflowers around the bean field to act as a catch crop.

We initially thought that this was Soybean Gall Midge. There is no difference in the symptoms between Soybean Gall Midge and Stem Borer. Both bore into the middle of the stem and cause identical damage. However, Soybean Gall Midge are smaller and have a reddish pink color to them. There will also be more Soybean Gall Midge inside each stem. The Soybean Stem Borers are usually alone in the stem. Gall Midge has been in the news a lot lately as it has expanded it's territory significantly in the last year. Especially to the north east and south west of its original range. I believe that Soybean Stem Borers have expanded their range from normal sunflower country this summer due to the hot dry weather we had early on.

To learn more about Soybean Stem Borer visit: extensionpublications.unl.edu/assets/pdf/g2082.pdf to access an article from University of Nebraska-Lincoln Extension.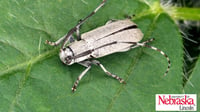 Adult Stage Soybean Stem Borer
Photo Courtesy of University of Nebraska-Lincoln
Questions?
As always, Legend Seeds is here to help with your agronomy/seed needs. If you have any questions on scouting, disease or insect pressure, or crop management recommendations, please contact your Legend Seeds representative.