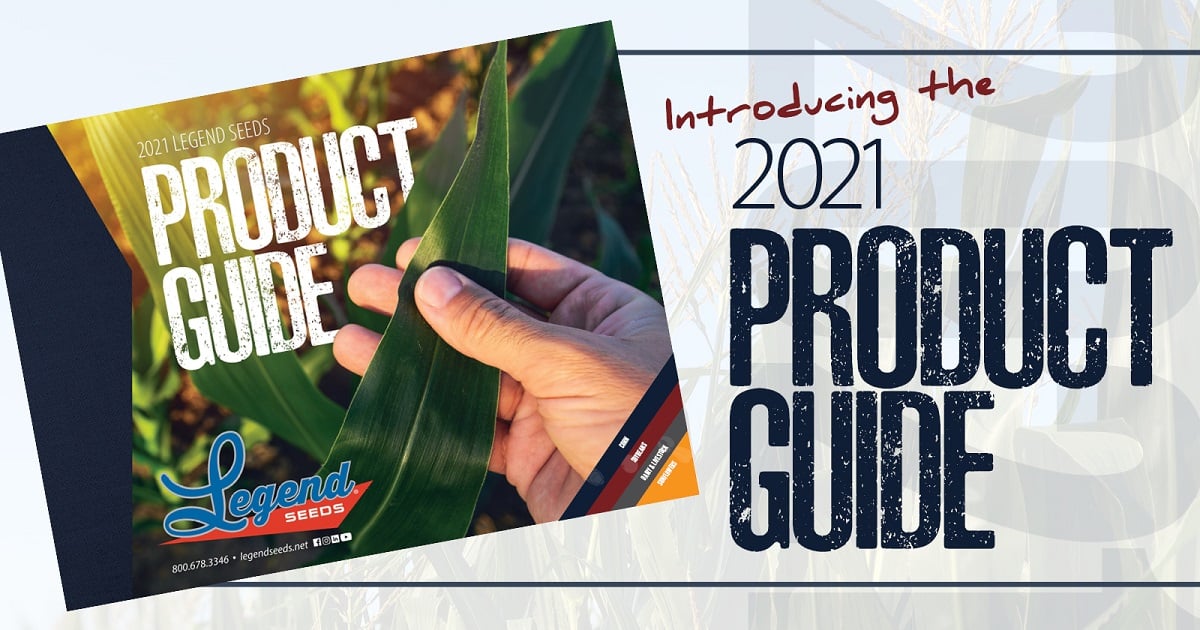 As we have heard from a lot of you, the most important aspect of a partnering seed company is providing products that perform. That is why we take that commitment toward delivering high-yielding, consistent producing, top quality products and services so seriously. As we look toward the future, we are pleased to showcase the evolution of our multi-brand strategy. We are taking a strong position of focusing on what's in the bag to deliver on our commitment to you. Here's a look at what to expect in our 2021 seed portfolio and how these products, brands, and solutions give you more buying power than ever before!
For the FY21 selling season, Legend Seeds is pleased to offer five corn and three soybean brands through our dealer network. With more than 23 trait technologies in total, we take pride in offering solutions that fit your operational goals. Each provide a unique opportunity to you and have a specific fit in certain market areas. So let's take a look…
Legend Seeds – As our premium, in-house seed brand, the Legend Seeds brand is backed by 30 years of quality, research, and the latest Agrisure traits and genetics, conventional, and certified non-GMO corn, and traited, conventional, and high protein soybeans. Also available under the Legend Seeds brand is premium and common alfalfa varieties, silage, sorghum, and cover crops.
JSC – Owned by Legend Seeds, JSC offers a value-priced lineup of quality corn products with proven genetics that perform at a high agronomic level.
Nuseed Sunflowers – As a distributor of Nuseed sunflowers, our partnership gives you access to a full portfolio of Nuseed branded confection, oilseed and con-oil sunflower hybrids with Clearfield and ExpressSun traits.

WHAT'S NEW?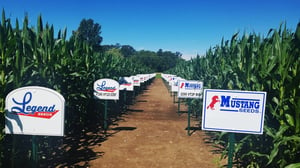 Mustang – New this year, we've partnered with Mustang Seeds out of Madison, SD to distribute products through the Mustang brand that complement the Legend Seeds portfolio across our dealer network. As a distributor, Legend Seeds also has access to increased research. Whenever independent companies can add efficiencies and value for our dealers and their customers, it is a win for everyone. Our shared values and determination to serve our customers with more choices and the best products available, ensures the future is bright for both Mustang and Legend dealers and customers.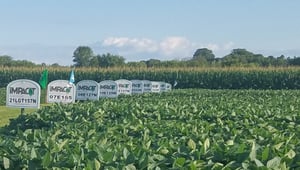 IMPACT™ - As the sole distributor of IMPACT brand corn and soybeans for the FY21 selling season, this portfolio focuses on glufosinate tolerant traits with selections made by Legend Seeds of unique genetics. IMPACT gives Legend Seeds growers more choice on high performing, consistent producing, industry leading traits and technologies all at a competitive price point. Visit our IMPACT corn and soybeans page to learn more.

Stine corn –Legend Seeds is pleased to offer select Stine corn hybrids to our dealer and grower network for 2021. Our distributorship with Stine gives customers access a new genetic source bringing truly unique hybrids to the market. Legend will offer 12 Stine hybrids in 2021, ranging from 77 to 105 day maturity. Of course, they are backed by Legend's second to none service and support.

PowerCore Enlist™ – Another exciting addition this year is the introduction to the PowerCore Enlist trait package. These hybrids provide exceptional broad-spectrum protection against above-ground pests and are stacked with the Enlist corn trait for multiple modes of action against tough weeds. Legend Seeds is offering four PowerCore hybrids under the Legend Seeds brand for FY2021. Visit our corn products page to learn more.

Truflex™ Canola - Also new to our seed portfolio this year is Truflex canola offered through Nuseed. Truflex canola with Roundup Ready technology provides enhanced flexibility in spray rates and timing to deliver next-level weed control. Visit our canola page to learn more.

We are excited at what this next year holds and the opportunity our enhanced product and brand portfolio brings you:
Competitive products

More opportunity to select the best product for your acres

Performance you expect, with results you deserve.

Ease of doing business

Even more choice

For more information, view our Legend Seeds Product Guide and our IMPACT brand product guide.

Want to learn more about our products firsthand? Why wait? Contact us today to connect with a Legend Seeds representative to tour a plot near you!