"Are my soybeans dead?" With the recent frost across the upper Midwest, this has been a very common question. These pictures taken on 6/1/21 in Elkader, IA are soybeans that were affected by frost on 5/29/21. At first glance the plants appear severely damaged and possibly dead, however plants #1-4 all survived the damage and plant #5 did not(see below). When assessing frost damage on soybeans it is important to check the nodes below the affected tissue for new growth which will typically start 1-2 days after frost event.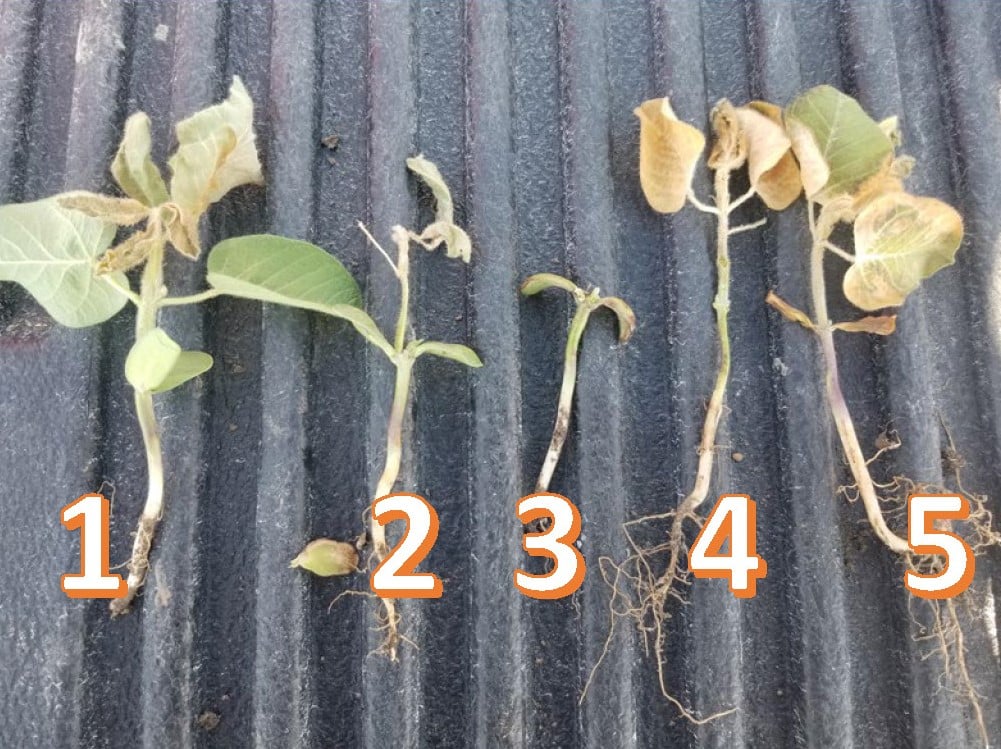 | | |
| --- | --- |
| | Plant #1 still has two growing points alive at each node resulting in four remaining growing points and the top growing point was dead. |
| | |
| --- | --- |
| | Plant #2 has just two growing points left at the cotyledon leaves, as the stem below the unifoliate leaves was damaged. |
| | |
| --- | --- |
| | Plant #3 had damaged cotyledon leaves and looked rough, but a closer look reveals two growing points left and new growth coming from each. |
| | |
| --- | --- |
| | Plant #4 looks dead, but even with almost all green tissue above the first node dead, there are two new leaves starting to grow where the damaged cotyledons were that fell off. |
If you've experienced frost damage to your soybeans or have concerns of dead soybeans and would like to schedule a consultation with a Legend Sales Agronomist or would like to replant while there is still time, contact Legend Seeds today.