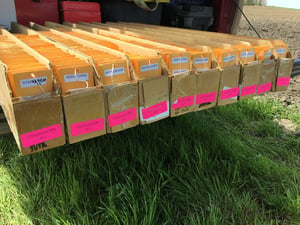 The Research team kicked off the planting season over in Bloomer, Wisconsin Monday afternoon, May 6th.
On Tuesday, May 7th, the team did the unthinkable and planted 3 plots in 1 day! The first plot was in Galesville, Wisconsin then the crew traveled to Claremont, Minnesota and ended at Fairfax, Minnesota where the plot was planted in the dark.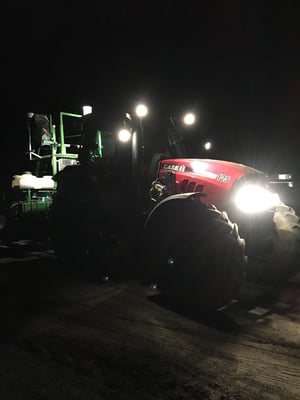 Later that night, with the assistance of bright tractor lights and flashlights, the team successfully pulled it off. The team wrapped up the week in Nebraska where the Neligh plot location was planted on Friday, May 10th.
The team hopes to continue planting the week of May 13th, if Mother Nature cooperates.
Reminder: Corn requires a soil temperature of 50° F to germinate. Temperatures below the optimum can cause seeds to sit dormant and become more vulnerable to diseases, insects, and animal predators.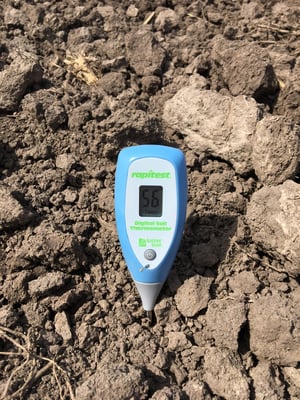 For more information on this topic, check out this ISU Extension article: Corn planting: Consider soil temperature and date or this article from Purdue University: Requirements for Uniform Germination and Emergence of Corn
Make sure to check your soil temperature before planting. We did while at Claremont, Minnesota and our temperature was at 56 degrees!
LEGEND ELITE ADVANCEMENT PROJECT
Legend Elite Advancement Project (L.E.A.P.) is our proprietary, in-house research program. It validates data on hybrid genetic performance over time and agronomic placement. Our L.E.A.P. plots are used for product evaluation, selection, and positioning on the right soil type and in the right geography to consistently deliver high value products to growers. Since 2014, we've conducted 85,890 replicated corn trials across 68 locations. As a result of our rigorous testing, we advance only the elite hybrids into our line-up, averaging 19 new products per year out of the thousands we tested.