The planting crew was on the road again on May 13th and traveled to Colfax, North Dakota. The planter had been worked on over the weekend, so we decided to check the planting depth while at Colfax.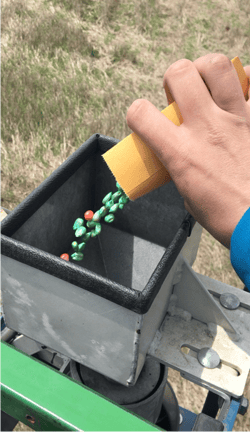 The planting depth was at 2 inches, which is optimum. One easy way to give your corn crop the best opportunity of consistent stand levels, and ultimate yield potential is to plant at the proper depth. It is important to check your planting depth to ensure the seed is not planted too deep or too shallow. A primary reason to target 2 inches is to achieve good seed to soil contact. This will help with uniform seed emergence. Take time to get boots on the ground and check the seed depth and placement.
A few minutes doing a simple check will pay dividends if it leads to more uniform germination and emergence.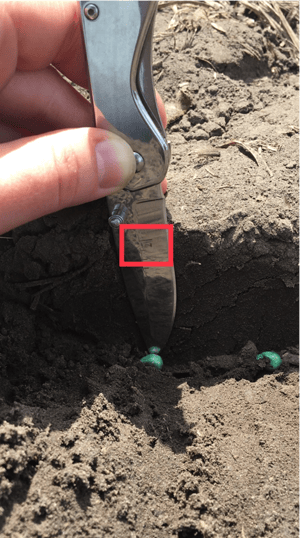 Once Colfax was completed, the team traveled west to Minot, North Dakota on Tuesday, which was the toughest plot of the year. After making repairs on the planter and putting everything back together, the crew finally finished planting after spending 7 hours at that location.
Wednesday, May 15th, was a much better day, the Grand Forks, North Dakota location was planted with no problems but we raced against the clock to beat the rain that was heading our way.
After all the North Dakota plots were checked off the list, the crew headed down to South Dakota to plant the Lake Preston location Thursday morning and the Blunt location Thursday afternoon.
So far, 10 out of the 11 locations are in the ground! We are waiting to plant our last plot near Pocahontas, Iowa since the field is still too wet. Our Wisconsin and Minnesota plots have started to emerge and next week we plan to start emergent notes!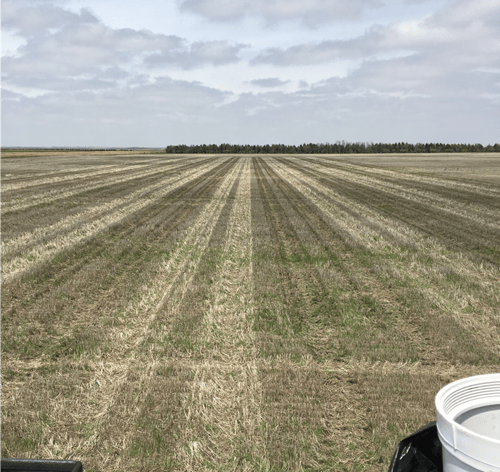 This image shows every planter pass at the plot in Blunt, South Dakota.
It was a beautiful day!
LEGEND ELITE ADVANCEMENT PROJECT
Legend Elite Advancement Project (L.E.A.P.) is our proprietary, in-house research program. It validates data on hybrid genetic performance over time and agronomic placement. Our L.E.A.P. plots are used for product evaluation, selection, and positioning on the right soil type and in the right geography to consistently deliver high value products to growers. Since 2014, we've conducted 85,890 replicated corn trials across 68 locations. As a result of our rigorous testing, we advance only the elite hybrids into our line-up, averaging 19 new products per year out of the thousands we tested.