It is that time of year where storms are starting to roll through our area and insects are out in our fields. The research team traveled to Fairfax, MN and noticed wind lodging, also known as "goose necking", in the plants from a previous wind storm. The goose necking comes from wet soils and strong winds. Late season lodging can lead to a decrease in yields.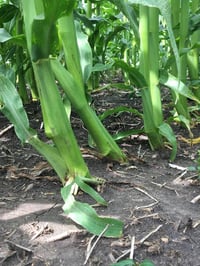 When it comes to harvest, late season lodging may cause the combine to travel at a slower speed if the rows are excessively lodged. Make sure to walk through your fields to see if any wind damage has occurred in your corn.
Zebra Leaf Striping
We also found a unique corn plant while in Fairfax, MN. This plant has zebra leaf striping. Many may think it is a disease or a deficiency, but it is actually a genetic mutation. If you look very closely, you can see the striping continues in the stalk as well as the leaves. This mutation affects the chlorophyll of the plant. This plant will not be as productive as a normal corn plant as the zebra striping will limit the sunlight intake for the plant.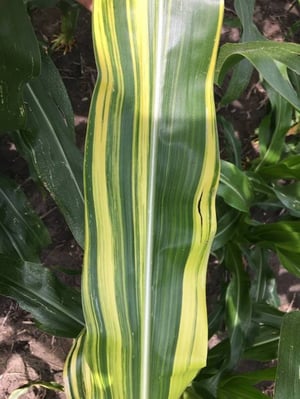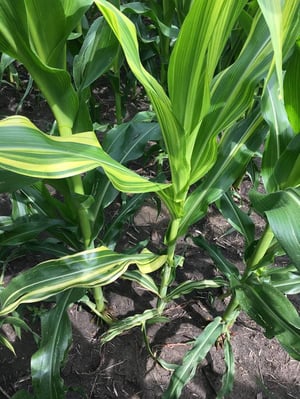 European Corn Borer
While in Neligh, NE, we found multiple insects throughout the plot.
In a previous L.E.A.P. update I talked about European Corn Borer damage, but this time we were able to find a European Corn Borer (ECB). We found the ECB at the larval stage. You can tell it has been feeding on the corn plant by the little sawdust looking particle. This is known as frass and you can see it located next to the head of the European Corn Borer. Later in the season, ECB can cause severe damage to the ear or ear shanks which would decrease yield.
Keep your eyes peeled for any insects in your fields!
LEGEND ELITE ADVANCEMENT PROJECT
Legend Elite Advancement Project (L.E.A.P.) is our proprietary, in-house research program. It validates data on hybrid genetic performance over time and agronomic placement. Our L.E.A.P. plots are used for product evaluation, selection, and positioning on the right soil type and in the right geography to consistently deliver high value products to growers. Since 2014, we've conducted 85,890 replicated corn trials across 68 locations. As a result of our rigorous testing, we advance only the elite hybrids into our line-up, averaging 19 new products per year out of the thousands we tested.