The excitement for spring is around us. At Legend Seeds, there are big things happening within our Research Team and our in-house research program, the Legend Elite Advancement Project (L.E.A.P). We are extra excited this year as we will be utilizing our newest investment, a Seed Research Equipment Solutions (SRES) planter. This SRES planter is an eight row planter which allows us to expand our plots and plant four rows of two hybrids at the same time.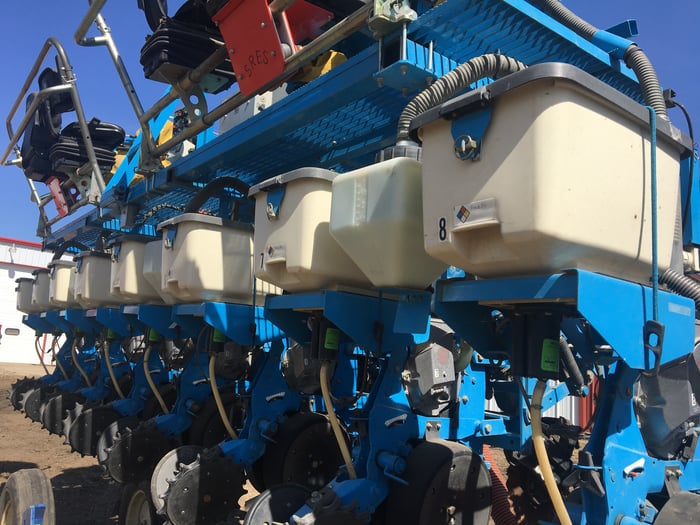 Also, having four rows per replication enables us to harvest the middle two rows. In the first and fourth rows, we are able to peel back husks and conduct in-depth observations of roots/stalks/ear formation as these rows won't be taken for official yield, moisture, and test weight measurements. Our SRES planter for L.E.A.P. has many aftermarket parts enhancing our observation capabilities of hybrid performance.
2020 Locations
For 2020 we have 10 L.E.A.P. locations. Those locations include:
Devils Lake, ND
Grand Forks, ND
Colfax, ND
Lake Preston, SD
Blunt, SD
Fairfax, MN
Ellsworth, WI
Platteville, WI
Buffalo Center, IA
Pender, NE
Seed Treatment Evaluations
Something new this year for our silage products is we are evaluating our silage specific hybrids with and without IONFx™. IONFx is new to the Legend Seeds treatment lineup this year, and promotes an increase in shoot tillering, leaf surface, and overall biomass of the growing plant, resulting in potentially higher yields.
We will continue to test and evaluate our current seed treatment offerings available through Legend Seeds and will incorporate in other seeds treatment options to determine what the response is of those seed treatments.
L.E.A.P. Process
For all the products and trials within L.E.A.P., we conduct multiple replications of each hybrid and trial. Within our L.E.A.P. trials, there is also a demo site at the front for customers and dealers to view our current and new products. To set up a tour of these demo sites this summer, please contact your Legend Seeds representative.
Data collection varies by season and by year, but to start, following emergence, our team will collect emergence and vigor ratings as well as other early season growth observations. As the season progresses, evaluations on impacts of Mother Nature are made and disease rating notes. All of these observations help us to validate our agronomic characteristic ratings you see in our Legend Seeds Product Guides.
L.E.A.P. Team
This season, our L.E.A.P. team will be comprised of three members: Research Specialist Jennifer Duffy, and additionally we are excited to welcome two interns, Alyssa Shellum of Sherman, SD and Tanner Vogel of Comfrey, MN to the team.
Follow our journey this summer as we will bring you updates on our planting progress, in-season observations, and ultimately HOW this data can bring value to your operation in making the best possible hybrid selection decisions.
From the L.E.A.P. crew, we wish everyone a safe and successful spring and an invitation is always open to contact Legend for a plot tour at one of our L.E.A.P. locations.