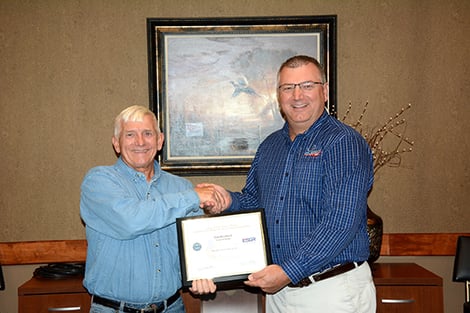 At Legend Seeds, we fully recognize, honor and support our employees and want them to succeed. We appreciate the values, leadership and unique skills that service men and women bring to the workforce. On September 30th, Legend Seeds President, Tim Bratland was honored as a Patriotic Employer for the United States National Guard and Reserve Force. The Patriot Award reflects the efforts made to support citizen warriors through a wide-range of measures including flexible schedules, time off prior to and after deployment, caring for families, and granting leaves of absence if needed.
One of Legend's very own, Steve (Scott) Schwartz, Legend Account Manager, has been selected by a board of pilots from an operations group to be the next pilot sent through training for the 178th Attack Squadron this fall. Legend Seeds proactively supports the Guard and Reserve and wants to thank Scott for his service and wish him the absolute best on this adventure.
At Legend, recognize the privilege of living each day doing what we love because of the brave men and women who fight to defend this great country and our freedom.
To learn more about the Patriotic Employer award, visit https://www.esgr.mil/Employer-Awards/Patriot-Award