Legend Seeds is proud to announce our transition from a family-owned independent regional seed leader into an employee-owned independent regional seed leader. What exactly does this mean?
Formally, it means that on August 1, 2018 Legend Seeds enacted an Employee Stock Ownership Plan or, ESOP. Through this structure all full-time employees of Legend Seeds will become part owners in the company. There are many companies throughout the Midwest that have similar ESOP structures to enhance their dedication and commitment toward providing superior customer service.
We believe that this change in our fiscal structure will allow us to serve our farmers with more passion and better service into the future.
For our full-time employees, the Legend Seeds story changes from, "I work at Legend Seeds," into something much more exciting… "Legend Seeds is the company that I am personally an owner of and a dedicated employee."
Legend Seeds was founded in 1990 by Glen and Janet Davis. This year, we embark on our 29th season of helping growers achieve maximum yields! Since the humble beginnings in Glen and Janet's garage, the company has grown to 100+ employees and more than 500 dealers. We serve seven states in the Midwest and Canada. Since August, Tim Bratland, former general manager has transitioned to president of Legend Seeds while Glen Davis has taken the seat of Chief Executive Officer.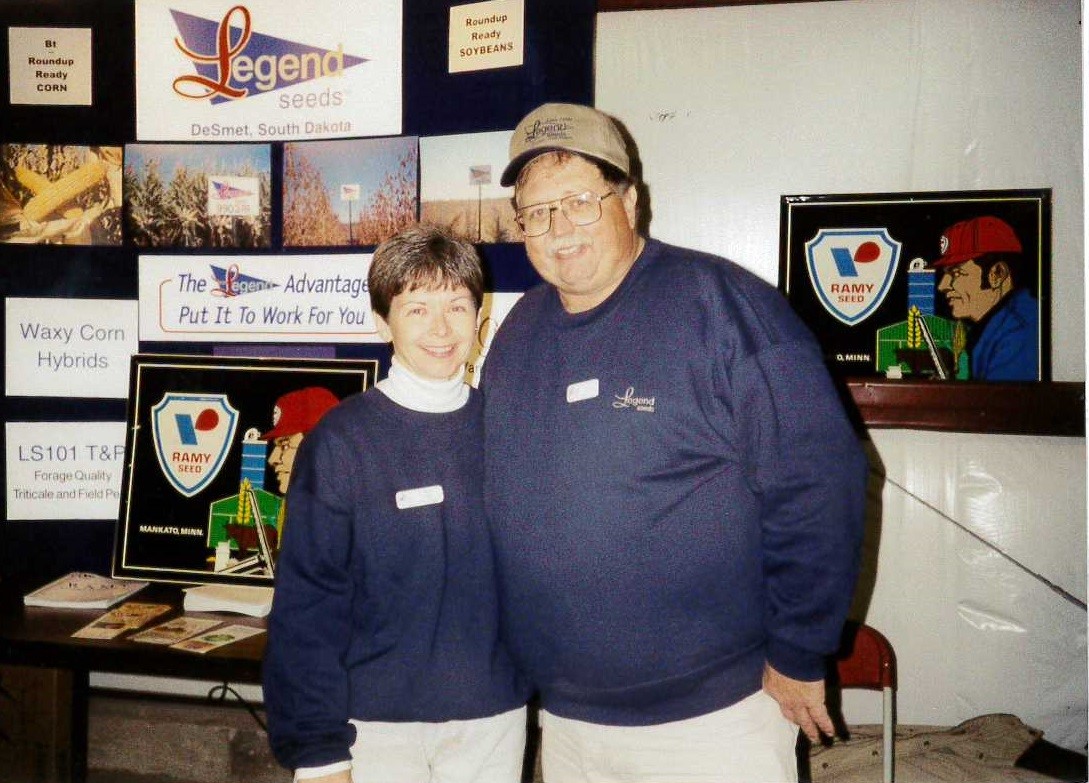 Photo Caption: Glen & Janet Davis
When reflecting on the decision to make the transition into the ESOP, Glen explained, "Janet and I have put a lot of thought into succession planning. We want to ensure that Legend remains an independent seed leader. Like any company, we need to have a clear vision of where we want to be in the future. This is a very appropriate time – you have all heard the turmoil in the seed industry. There are buyouts, mergers, brands being dropped, good people being let go, and dealers told 'how it will be' going forward. Due to these situations, we have been asked on multiple occasions, 'What is happening at Legend Seeds?' Janet and I wanted to answer that question in a way that maintained our original vision for the company, while offering clarity and certainty."
Through an ESOP, all employees of Legend Seeds will become part owners in the company, alongside the current shareholders and the Davis family who will continue as part owners and remain actively involved in the leadership of the company.
The management team and the Davis family have three expectations of the ESOP:
1. Assure Legend's future beyond Janet and Glen for the stability of its employees, dealers, and customers.
2. Allow Legend to continue to operate with our core values and focus in place.
3. Remain a customer service driven company, dedicated toward providing high-yielding, consistent producing, top quality products that give our customers more profit potential than they can get anywhere else.
With those goals in place and the ESOP now in action, Legend Seeds continues on the path of certainty and stability. In addition to the ESOP, we have also put into place leadership transitions to facilitate the next stage of growth for Legend Seeds, which you can read about here.
In an era of mergers and buyouts, we are proud to remain a strong, healthy, independent, regional seed leader with an incredibly bright future, focused on serving the needs of our customers and ensuring their success.