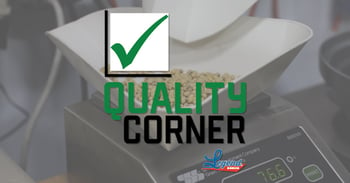 Spring is here and seed delivery is in full swing. Many of you already have your seed and are working on a delivery plan to your customers. With that in mind, here are a few storage tips:
Leave enough room between the pallets and the wall to walk between. If stored in a metal shed, as it gets later in the year the heat generated as the sun shines on the tin could adversely affect the germ.
Leave enough space between pallets so bags are not rubbing on each other or getting torn.
Take shrink wrap off each pallet. This will reduce the chance of condensation forming on the bags.
Place the pallets on concrete. Sweep the floor regularly to keep grain that may attract mice picked up.
Set and maintain rodent traps along both the interior and exterior walls of your storage facility.
Check your storage facility for entry points. If you find smaller entry points, an easy way to seal them is to pack with steel wool and then expandable foam.
Keep weeds under control or have a 2 to 3 foot-wide perimeter of rock around the exterior of your storage facility.
Keep all doors shut while the building is not in use.
Do not run diesel-powered equipment in the building any longer than necessary as diesel exhaust can kill germ.
Do not stack pallets more than 2 high. Stay safe.
Keep pallets away from areas that may have leaks from either rain or snow.
Check stored bulk soybeans bi-weekly during critical spring months when outside air temperatures are changing rapidly. Search for small changes that are indicators of potential problems, such as crusting or condensation on bin roof.
When using a hard pack, remember that the bottom has a pattern of rectangles that will hold rocks and many kinds of foreign material can rest on the bottom rails. Make sure to check and clean before filling your planter.
For questions regarding storage or quality, please feel free to contact a member of Legend Seeds Quality Assurance Team at 605.854.3346.