As the buzz and excitement build around the 2021 Legend Seeds portfolio, we are pleased to bring you additional content and information to understand your seed selection options and planting requirements. Whenever planting an insect traited corn that does not have EPA approval to have refuge in the bag, it is important to follow structured refuge requirement guidelines. Below we address frequently asked questions on Structured Refuge Corn and what options are available through the Legend Seeds product portfolio.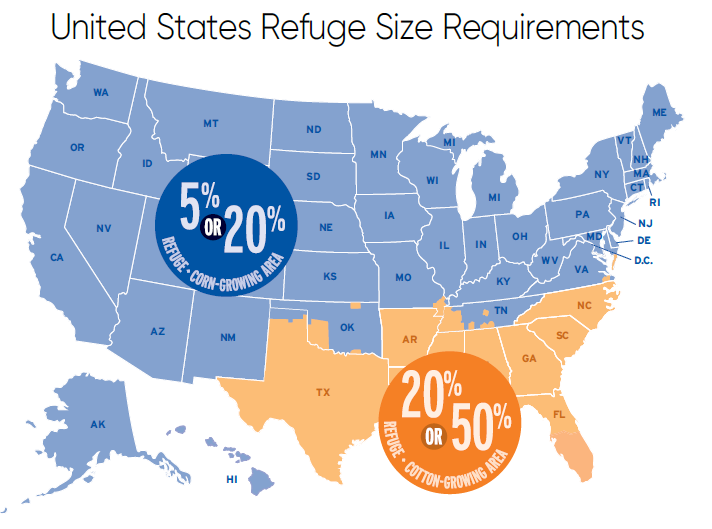 What is it?
A refuge corn plant is defined as non-Bt(Bacillus thuringiensis). Bacillus thuringiensis  is a species of bacteria that produces proteins that are toxic to certain insects. In other words, a refuge corn plant is any hybrid that does not have an insect trait.
The concept behind refuge corns plants is that pests that feed in the refuge will mate with a pest that may have not been killed by the Bt crop. ... This plant in a field of mostly Bt plants becomes a safe place, or refuge, for a pest like corn rootworm to feed.
When do we need it?
A structured refuge is necessary whenever planting an insect traited corn that does not have EPA approval to have refuge in the bag. Currently, the four PowerCore Enlist E3® products in our portfolio require a 5% refuge and many of the Agrisure products that carry a single insect trait mode of action require a 20% structured refuge. The Legend Seeds product guide clearly state at the top, with a colored circle, which hybrids need a refuge and how much.


What counts as a structured refuge?
Any hybrid that does not have an insect trait can count as a refuge. This includes straight Roundup Ready® corn hybrids, glyphosate tolerant (GT) corn hybrids, or conventional hybrids.
Does Legend Seeds have non-insect traited products to use as refuge?
Yes! This is one of the many reasons we have expanded upon our multi-brand strategy. In addition to our Legend Seeds portfolio, we offer Legend Seeds conventional hybrids, Mustang brand Roundup Ready hybrids, and offer GT hybrids through the IMPACT™ brand and Stine brand portfolio. Many have unique agronomic fits and can be a competitive pricing advantage. In addition to that, many of the Stine brand products and all of the IMPACT brand GT hybrids can be used a great refuge companion product alongside the PowerCore Enlist E3 hybrids
Will structured refuge hybrids always be a requirement?
As of right now, Corteva is working on EPA labeling to be able to place refuge in the bag with the 5% structured refuge requirement for PowerCore Enlist E3. That labeling will not be available in the 2021 selling season. Agrisure products that require a 20% structured refuge need to be positioned as so because they only carry a single resistant trait. That is not likely to change in the foreseeable future.
Where do I place structured refuge in my field?
A structured refuge is a split planter or a block that is in the same field as the traited hybrid or immediately adjacent to it. Examples include: across the fence, across the road, kitty corner in two quarters that are touching, etc. It cannot be one or two townships away.
For more information on structured reference or integrated pest management, check out the Corteva Product Use Guide or the "Refuge planting For Insect Resistance Management"
To review the Legend Seeds portfolio, or what available products we carry that meet structured refuge requirements, contact your Legend Seeds representative or check out our corn portfolio here.