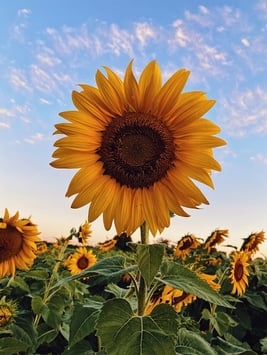 As Sunflower Business Development Lead, Jed Wall is responsible for leading and supporting Legend Account Managers and providing sales support to their dealer network for their sunflower and canola business needs. A native of Wahpeton, ND, he received his Associate Degree in Crop Production Sales and Service from North Dakota State College of Science. Jed uses his 20+ years of sunflower experience to help growers maximize yield opportunities and is driven to assist them in finding the best outlet for their crop to help them increase profitability. When he is not in the field, he enjoys fishing and spending time with friends and family at the lake.

1. What are the key topics/issues that sunflower and canola growers are facing right now?

One of the key topics that growers are facing right now is what to plant in 2021. We had one of the best sunflower crops ever in 2020, so growers are excited to put them in to their crop plan for 2021. One of their biggest decisions will be selecting a hybrid to match with their acres and how they will be marketing their crop this year. Right now, there are a lot of great contracts out, giving growers attractive options to choose from. At Legend, we are dedicated to helping growers with this choice by providing them with the right hybrids that will help them increase profitability.

2. What are the biggest challenges and how can they be overcome?

One of the biggest challenges that we face in sunflower production is controlling tough weeds. But with the advancements that have been brought to the marketplace in the last 10 years, growers are getting a leg up on this problem, with outstanding new pre-plant products and some very good herbicides for post control. Growers that haven't planted sunflowers in the last decade are always amazed on the advancements in weed control.

When we work with growers when it comes to weed control, we always recommend starting out the year with a strong pre-plant product such as Authority Supreme; then we help them select which post herbicide option is best for them. With the Express system we have a larger spray window which allows us to spray all the way to pre-bud formation, so some growers prefer Express due to the broader spraying window. With the Clearfield and Clearfield Plus system, growers achieve both broadleaf and grass control. Timing is critical with the Clearfield system - growers need to spray Beyond between the 2 - 4 leaf stages (optimally) and no later than 8 leaves. Broadleaf weeds should be targeted when they are 3ft tall by 3 inches wide.

3. What do you foresee for the industry in 2021 and beyond?

I personally think that the outlook of our industry is very bright. We are just beginning to see how molecular research is helping our breeding staff not only speed up the process of bringing new hybrids to the marketplace, but also helping them screen for advanced downy mildew resistance, oil quality and resistance to certain diseases in a much quicker timeframe. I also foresee the industry continuing to improve on seed treatments and polymers. We have seen a huge improvement in seed treatments, polymers and seed flowability additives in the past 10 years that have helped contribute to better stands and higher yields. There are also some huge advancements that will help us control tough insects such as wireworms that will be released in the very near future. If you have not grown sunflowers in the past 5 years, it's time to give it a second look-a lot has changed and there is tons of opportunity to increase revenues on your farm. The future is bright!


This article was also published in the Nuseed Succeed Magazine. Since 2016, Legend Seeds has partnered with Nuseed to give dealers and growers access to a full portfolio of Nuseed branded confection, oilseed and con-oil sunflower hybrids with Clearfield and ExpressSun traits. To view our full sunflower portfolio, visit legendseeds.net/products/sunflowers.